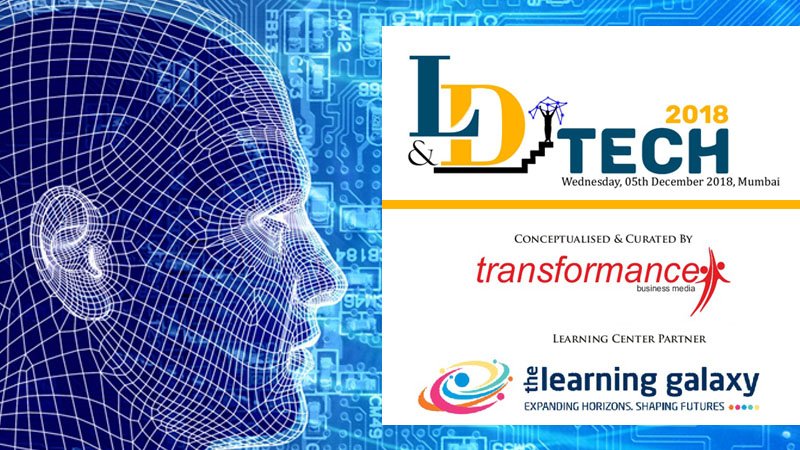 L&D technologies are changing the ways organizations deliver learning and share knowledge.
Digital disruptions have caused learning and development to move one beat away from training. Today it's an age of technology based learnings rather than traditional methodologies. The Digital based learning helps to overcome the generation gaps and resisting nature of the corporate learners. It helps to gain a support & instil a confidence in them in terms of Learning technologies adopted  by  the  business houses. They are made future ready and act as positive  contributors  to the overall productivity. As a whole, these  advanced technologies  help  the  organization to grow and innovate at a higher level thereby giving it  a competitive advantage. It helps it to step " One Level Up".
"L&D Tech Summit"  that takes place on 5th December 2018, Mumbai will solve this challenge. Discussions and insights of the industry's leading experts would help in coming up with various ways that would help the corporate learners  to become  more adaptive and supportive towards Digital learning.
Learning Outcomes L&D Tech Summit
The Strategies to identify the key differentiators in L&D Technology  adopted for the organization
Determining the appropriate matrix to assess the effectiveness of the L&D Technology adopted
Crafting a business case to sell the idea
Exploring the Latest technologies like Machine learning, Artificial intelligence & its successful means &ways for implementation
 L&D Tech Summit Format:
7 Live Case Study Presentations:
The summit consist of 20 mins case study presentation in the morning that gives a practical exposure to the types of technologies successfully  adopted &implemented by the organizations:
Building the ROI business case for investment in learning and development technology
Analytics and Data driven learnings
Micro learning strategies
Learning Tech for less tech savvy population
Latest strategies for exceptional Gamification project management
The changing mindset towards L&D Technology
Receptiveness and adoption of technology for the Mature and large scale organizations
Panel Discussion on
L&D Technology infrastructure and adoption matrix
Learning Labs Session: Post lunch we have 5 parallel round table sessions. The parallel round table sessions represents the best learning experiences for all participants. Each round table session is for the duration of 60 minutes that help each participant discuss a lot more in depth on practical challenges of implementation, which is usually not possible in regular presentation.
Learning LAB 
Parallel sessions 1
Lessons from the frontline of LMS implementations
Mobile Learning Tools
AI and Machine Learning
Virtual and augmented reality
Simulation based learning
Learning LAB 
Parallel sessions 2
Micro-learning best practice
How to secure me commitment from busy learners
Learning Bytes
Video- Today's Primary content format
Managing the complex L&D Technology Environment