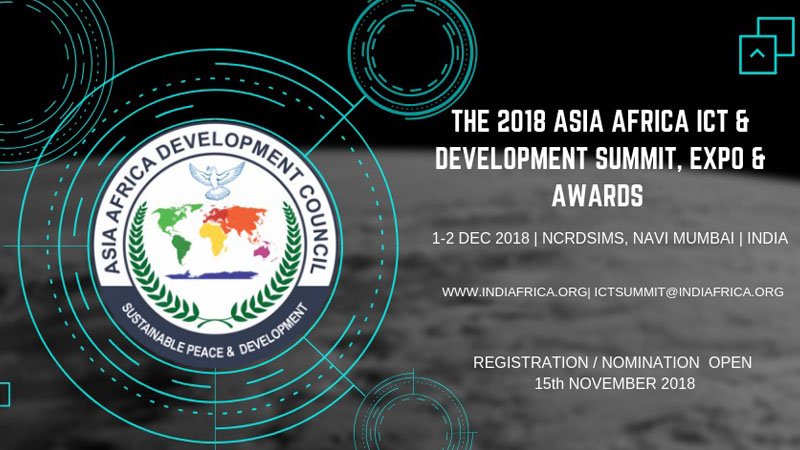 Poised on the cusp of a sea change in Information and Communication Technology, The 2018 ASIA AFRICA ICT & DEVELOPMENT SUMMIT Scheduled for 1st – 2nd December, 2018 in Mumbai (India) is a harbinger of transformative metamorphosis and heralds a new era in high-level collaborations between India and the African countries. This high-level prestigious event is being organized by the Innovation Society of India in partnership with Public Opinion International (Uganda), World Academy of Informatics & Management Sciences (WAIMS), Computer Society of India, Asia-Africa Development Council (ADCO), and Africa Asia Scholars Global Network (AASGON) — and is in line with the UN 2030 Agenda for Sustainable Development, the Buenos Aires Plan of Action for Developing Countries, and South-South Cooperation.
It was as a tribute to the 2018 International Day for the Abolition of Slavery that the forthcoming Summit/Expo/Awards was unanimously declar ed and scheduled for 1st – 2nd December, 2018 during the proceedings of the erstwhile India-Africa ICT Summit held on 1st and 2nd of December, 2017 in Delhi (held with the support of the Ministry of Electronics and Information Technology, Government of India).With the Ministry of Electronics and Information Technology, Government of India expected to declare the 2018 Asia Africa ICT & Development Summit open, formal invitations are on the verge of being sent to over 200 heads of state and related ministers, and to over 2,000 heads of institutions and prominent corporate leaders. Over 5,000 potential participants, including academicians, researchers, and experts in the field of ICT are expected to take active part at the exclusive Summit, Awards, and Expo — the first of its kind ever staged in history, as stated by the ADCO Governing Council through its various stakeholders/organizers.A highlight of the "ICT & ATTAINMENT OF THE UNSDG in Asia and Africa: Opportuni ties, Challenges and Way Forward" is the 2nd prestigious ASIA AFRICA ICT AND DEVELOPMENT SUMMIT & EXCELLENCE AWARD and official launch of the 2nd ASIA AFRICA ICT & DEVELOPMENT Directory, Souvenir Publication, and Exclusive Documentary on ICT, Industry, Innovation, and Corporates in India and other developed and developing countries of the world.With such a motley plethora of top-level distinguished dignitaries and industry-specific luminaries on board, the platform is ripe for the promotion and enhancement of ICT knowledge.
The opportunities for participating companies to showcase their products to potential buyers from across the globe are unprecedented and phenomenal. This unparalleled targeted exposure will maximize benefits for top corporate sponsors, exhibitors, advertisers, and participants alike.We thus invite your esteemed participation and corporate sponsorship or exhibition at the Summit/Award at your earliest. Don't miss this rare opportunity to grab the eyeba lls of the creme de la creme and upper echelons of the ICT industry.
Please contact us soon to guarantee a confirmed spot.We shall respond to your request within 48 hours.
Book your spot today!
Respectfully Yours,
Chairman, Organizing Committee