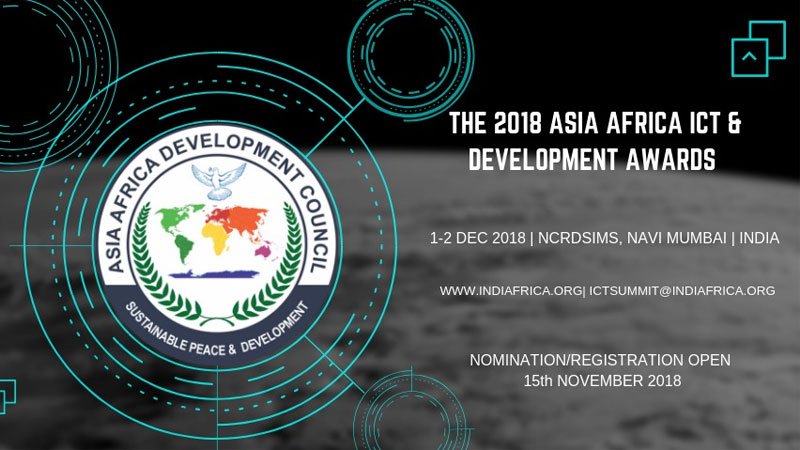 With a view to strengthening ICT for sustainable development and empowering stakeholders,
public and private sector organizations from both Asian and African continent will be recognized and accredited with the prestigious 2018 ASIA AFRICA ICT EXCELLENCE AWARD for their tremendous achievements in adopting best ICT practices to fight cyber crime and promote the use of ICT in human, environmental, and infrastructural development.
For the Year 2018 Council and Consortium Has Open Nomination for 100 ICT Excellence Awards and In inviting Nomination From Asian and African Continent ( Corporate Leader | Academic | Startup Leader | Diplomat ).
Consortium Shall Notify to those approved Award nomination by the AWARD Steering Committee for registration and Presence in AWARD Ceremony.
Excellence Awards vetted by the established AWARD Steering Committee for superlative achievement in ICT transformation., ICT Innovation,ICT Competitiveness, ICT Utilization, ICT In Education Development and ICT In Combating Crimes.
This award is organized by Innovation Society of India, World Academy of Informatics and Management Sciences, Computer Society of India, Asia Africa Development Council (AADC), and the Africa Asia Scholars Global Network (AASGON) United Kingdom.
Registration is Compulsory to participate in this Mega Event Nomination is open till 30th October 2018. Once Approval by Award Screening Committee List Shall be Updated on the website &
Separate Invitation Shall be sent to Selected Registered Members Individuals Organizations latest by 15th November 2018.